Robotics long term training program for School Students | Weekend Robotics Training | Year Long Robotics Training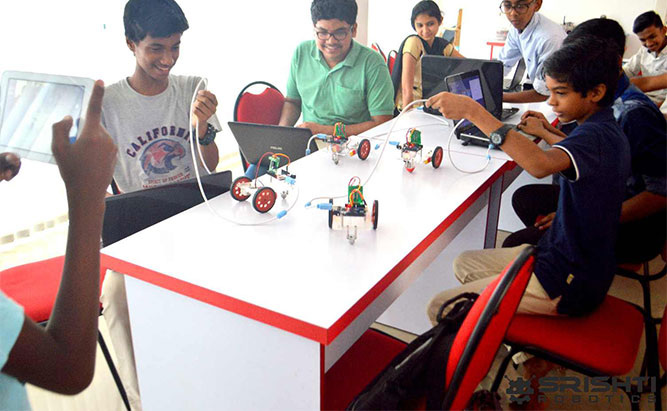 Our Junior Robotics classes are specifically designed for younger students that are interested in exploring robotics using the open source platforms like Arduino and Raspberry pi. We will start from the scratch using graphical programming  so this class will move at a slower pace to ensure that all students are grasping the programming concepts, and developing the skills needed to succeed robotics and science fair competitions.
      Srishti Robotics gives the opportunity to explore engineering, math and science through robotics for kids from 10 to 17 years old. The process of creating autonomous machines that complete useful tasks is what makes robotics so much fun!
Experience with  Robotics teaches many important skills.
Learn how to break a complex problem into small manageable parts.

Organize simple tasks to create an application.

Evaluate results and fix bugs.

Build the critical thinking skills that children need to be successful in any endeavor.
Our expert teachers will guide students as they build and test their robots and learn valuable engineering principles along the way.
Age Group: 10-17
Duration: 90 Hours ( 30 + 30 + 30 )
Flexible Timing
Phone : 7902224040 / 9400465293
Email : This email address is being protected from spambots. You need JavaScript enabled to view it.
Web : www.srishtirobotics.com
Weekend Robotics Classes in Kochi | Robotics Year Long Training Program | Robotics Classes Throughout an Year | Saturday Sunday Robotics Training | Kochi Robotics | Robotics For Kids | Robot Building Classes | Makeblock Ultimate 2.0