Product Development
Lean Product Development Process
Turn ideas into great products by gaining access to experienced developers, solid technical know-how and business acumen. Using our proven step-by-step process, we can consult you to refine concepts and create the product design, then prototype, test, and provide the documentation you need to engage suppliers and go to market.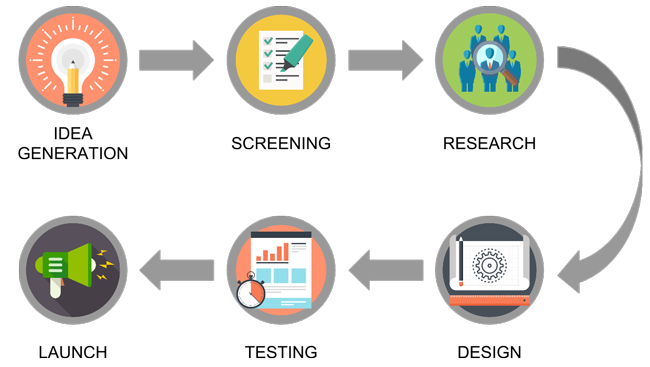 We can also help you put in place all of building blocks for successful new product commercialization
Develop your product roadmap and innovation strategy

Research your competition

Assess patent opportunities and risks

Create prototypes, 3D photo-realistic renders, and product presentations

Design compelling and trademark support

Source components suppliers and contract manufacturers
Co-Work For Equity
For startups that want more than software/ hardware engineering service and look for a true technical partner or co-founder, we are open to engage in a co-work for equity model. This means that we provide our software/ hardware engineering services in exchange for shares, should there be compatibility in both needs and expectations.

Why Us ?
Choosing the right technology partner for your Hardware/ Software products is not an easy mission. Time to market, intellectual property protection and software quality are only a few of the key aspects to be carefully considered. Relying on us to build your software comes with the benefits listed next, among others.
Our Speed
Speed, a factor that is usually critical for a startup business, guarantees you a short time to market if complemented with the right level of involvement from your side. It is widely recognized that the speed with which a product is launched and adapts to new market challenges and opportunities weighs heavily on its future. Fast development at high quality is our major focus in product development.
The Quality
Quality we provide, the result of continuously refining processes and methods leads to hardware and software products with great user friendly interface, scalability and performance.
Our Experience
Experience, built while successfully delivering hundreds of projects in a variety of application areas and industries, cannot be replicated with a fresh in-house team. Understanding, learning and applying the best practices in hardware/ software development takes years and lots of projects. At Srishti you have all this experience readily available for less than what you would pay for an in-house team.
IP Awareness
IP awareness and practices are all taken very seriously by us. In any project application and partnership, we are fully aware of the confidentiality and IP protection requirements and take all the necessary measures to meet them.