Internship Confirmation Payment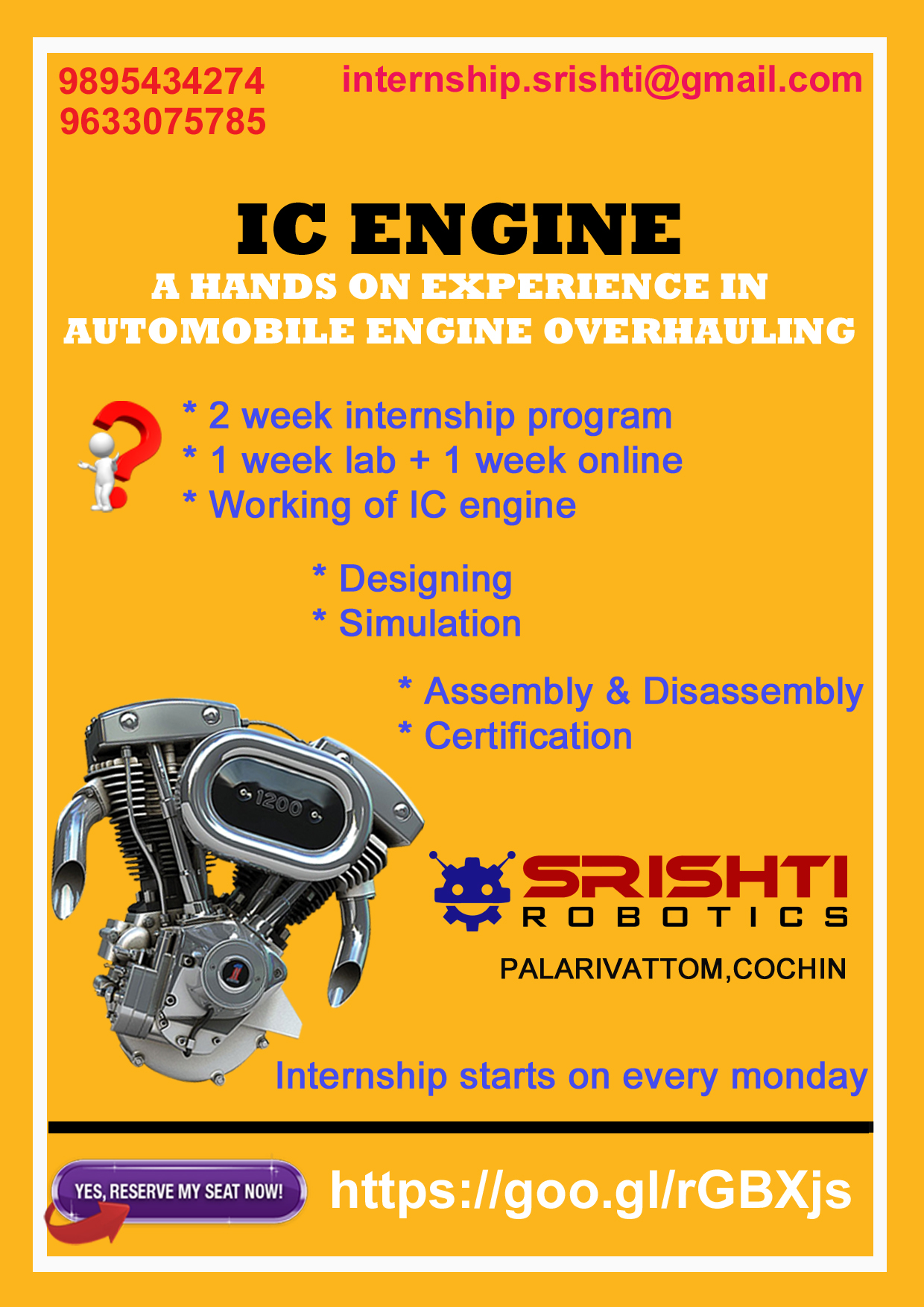 Once you have confirmed through online payment, your joining date can be selected in b/w any weeks of june and july as per pre request.
Total Fee = 3000/- (Per Person)
Confirmation Fee = 500/- (Not Refundable)
Remaining = 2500/- (Can be paid on the date of event)
For any kind of information feel free to contact : 9633075785
Hostel facility will be available nearby.
Pay & Confirm
Mechanical Internship Program
Internal Combustion or IC Engines have had a great impact on human life. These engines produce immense power in contrast to their size and weight. Today, these engines power almost all air and land vehicles. In this internship program, students get firsthand experience of the working principles for IC Engine Design. By dismantling and assembling a real IC Engine, participants can explore the engineering involved in an automotive engine system.
Course Highlights

Dismantling and assembling the engine

Course Structure

Introduction and Video Session – 1 day
Design Session - 1 day
Hands-on Session – 3 days
Certificate Distribution – 1hr

Topics Covered

Introduction -

Basic Components of a Motor Cycle
How does a engine works
Different types of engines

Design Session

Design and detailed sketching of Piston assembly

Hands-on Session -

Dismantling of the engine into individual components
Analyzing all the components first hand
Live demonstration of the internal engine mechanisms
Re-assembly of the engine
Live demonstration of 4 stroke 3 cylinder engine parts and its working

Kit Content

4 stroke Hero Honda engine
4 stroke 3 cylinder engine
Working Tools

These components would be provided during the workshop but would be taken back after the workshop. This is being done to reduce the cost of the workshop and make it affordable for students.

Certification

All certificates have a unique ID
Certificate of Completion
Certificate of Completion with Distinction (for top performers)

Eligibility

Students from Mechanical, Automobile and Aeronautical engineering departments
Students interested for a career in Automobile and related fields of engineering

Contact Details

Please feel free to contact us in case of any queries.
Email: internship.srishti@gmail.com
Phone: +91 9895434274 (24 Hrs)
Register Here & Get Full Details